Home >
2012 ISOE Asian ALARA Symposium

2012 ISOE Asian ALARA Symposium
The 2012 ISOE Asian ALARA Symposium was held on September 24-25, 2012 at JNES in Tokyo, Japan, with attendance of 32 individuals from Japan, Korea (Rep.of), USA and France.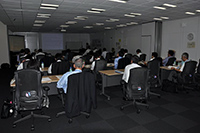 Approach to radiation safety and safety culture in the United States and exposure reduction activities in Korea were presented, and ISOE program was introduced from ISOE Secretariat and ISOE European Technical Center. From Tokyo Electric Power Company, were reported dose management of workers engaged in emergency work for response to the accident at the Fukushima Daiichi Nuclear Power Station. Among these presentations, "Los Alamos National Laboratory Developed Technology Proven Effective for Reducing Plant Radiation Levels in Light and Heavy Water Reactors" by Ms. Patricia J. Robinson ((n,p) Energy, Inc.) and Robert Hite (Cook Nuclear Plant, American Electric Power) was selected as a distinguished paper. In addition, a special award was given to the "The situation of individual dose management of the workers who engaged in emergency work in Fukushima-Daiichi Nuclear Power Station Accident" by Mr. Koichi Sumiyoshi (Tokyo Electric Power Company) to put the meaning of encouragement. The distinguished paper will be invited to be presented at the 2013 ISOE International ALARA Symposium in Japan.
Technical visit to the Onagawa NPP of Tohoku Electric Power Company, which was attacked by the Tohoku-Chihou-Taiheiyou-Oki Earthquake and Tsunami, was held on September 26, 2012 after the symposium.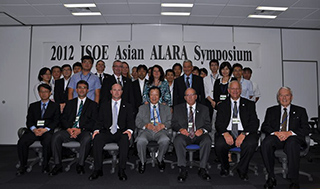 Key Notes Speech
Title
Speaker
Contents
Lessons learned from Fukushima
Wataru Mizumachi
JNES, Japan
Presentation
Contents
Session 1
Title
Speaker
Contents
Exelon Board Governance
Approach to Achieving Excellence
in Nuclear Plant Fleet Operations
and Nuclear/Radiological Safety
John Palms
Exelon, USA
Presentation
Developing a Strong Nuclear
Safety Culture
Lawrence J. Weber
Cook NPP, USA
Presentation
Achievement of Lowest PWR Dose
at Cook Nuclear Plant
Robert Hite
Cook NPP, USA
Presentation
Session 2
Title
Speaker
Contents
The ISOE Programme through the 20th Anniversary
Halil Burcin Okyar
OECD/NEA
Presentation
Update on ISOE website
and database
Caroline Schieber
CEPN/ISOE-ETC,
France
Presentation
Development of Cyber
ALARA Program
Choi Hoon
KHNP, Korea
Presentation
Occupational Exposure at
Japanese Nuclear Power Plants
Yoshihisa Hayashida
JNES, Japan
Presentation
Session 3
Title
Speaker
Contents
The situation of individual
dose management of
the workers who engaged
in emergency work in
Fukushima-daiichi
nuclear power station accident
Koichi Sumiyoshi
TEPCO, Japan
Presentation
Monitoring Support Activities
by Electric Utilities
Yoshihisa Hayashida
JNES, Japan
Presentation
Session 4
Title
Speaker
Contents
RMS alarm under
IHA decontamination
Jung Young-Chule
KHNP, Korea
Presentation
Field Application of
CZT Detector for Evaluation of
Radiation Source Term
David W. Miller
Cook NPP, USA
Presentation
Los Alamos National Laboratory
Developed Technology Proven
Effective for Reducing Plant
Radiation Levels in Light
and Heavy Water Reactors
Patricia J. Robinson
(n,p) Energy, Inc., USA /
Robert Hite
Cook NPP, USA
Presentation
Paper
Experience on the
Commercial Operation
of Ulchin Vitrification Facility
Won-Gyo Jung
KHNP, Korea
Presentation