Home >
2013 ISOE International ALARA Symposium

2013 ISOE International ALARA Symposium
The 2013 ISOE International ALARA Symposium, organized by the Asian Technical Center, was held 27-28 August 2013 in Tokyo (Japan), and attended by an audience of about fifty participants from OECD/NEA, IEAE and eleven countries including Brasil, China, France, Germany, Republic of Korea, Pakistan, Russia, Spain, Sweden, USA and Japan.
Japan and USA provided lessons learned from the Fukusima accident and TMI accident, respectively.TEPCO(Tokyo Electric Power Company) introduced the present situation of the Fukushima Daiichi NPP site, the current decontamination activities and mid- and long-term decontamination plan. Moreover, the CANBERRA Industries introduced the experience which was involved in the response to the Fukushima accident from immediately after the accident.
Among these presentations, " Cook Critical RP Survey Program." by Mr, Robert Hite, Cook Nuclear Plant Radiation Protection Manager of American Electric Power was selected as a distinguished paper. He mentioned the importance of systematic approach to radiation protection program information capture.The distinguished paper will be invited to be presented at the 2015 ISOE International ALARA Symposium in Brasil.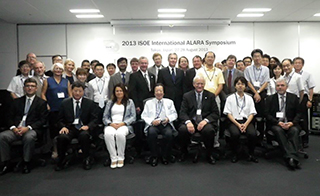 In connection with the symposium,the participants had the opportunity to participate a technical visit in Fukushima Dai-ichi NPP on the 29th of August, 2013. they observed the inside of the site where restoration from an accident is advanced by yard bus of TEPCO wearing the protective clothing and half-face mask. The damaged truck, the large-sized leaning strage tanks, the transmission line tower that collapsed, etc. were still left.
The route of site tour included
・Reactor water injection pump, Treatment water storage tank
・Site for multi-nuclide removal equipment
・Control room for contaminated water processing device
・Appearance of Unit 1 - 4
・Unit 4 Reactor Building
・Ocean side equipment of the Units 1- 4 , 5 and 6
・Emergency Care Room, Units 5/6
・Emergency diesel generator 6B
・Site of Yonomori Transmission Line Tower collapsed by the earthquake
Contents
Plenary Session
Title
Speaker
Contents
Fukushima Countermeasures and Benchmarking Visits
Wataru Mizumachi
JNES, Japan
Presentation
Lessons Learned on Management of Worker Dose During the TMI-2 Accident/Recovery Phases
David W. MILLER
Cook NPP, USA
Presentation
Radiation Measurement Experiences and Lessons to be Learned in Response to the Fukushima NPP Accident
Frazier BRONSON
CHP,Canberra
Industries, USA
Summary
Presentation
Mid-to-long Term Policy for on site Decontamination and the performance
Toru Furukawa
TEPCO, Japan
Summary
Presentation
Session2
Title
Speaker
Contents
ISOE Programme
-Recent Activities-
Halil Burcin OKYAR
OECD/NEA
Summary
Presentation
Analysis of Collective Dose Trends using ISOE Database
Lucie D'ASCENZO
CEPN/ISOE ETC,
France
Summary
Presentation
Analysis on Occupational Exposure of Radiation Workers in Korea by KISOE
Byeong-Soo KIM
KINS, Korea
Summary
Presentation
Introduction to Optimization in Occupational Radiation Protection for Nuclear Power Plants in China
Xiong XIAOWEI
NSC, MEP / NNSA,
China
Summary
Presentation
Session3
Title
Speaker
Contents
Cook Critical RP Survey Program
Robert HITE
Cook NPP, USA
Summary
Presentation
US PWR and BWR Experience in Reducing Critical Path, by Reducing Radiation Source Term
Patricia ROBINSON
NP Energy, USA
Summary
Presentation
Angra 1 & 2 - ALARA Program Successes & Future Initiatives
Marcos Antonio
Do Amaral
letrobras Eletronuclear,
Brazil
Presentation
Radiation Safety Management for HANUL NPP Unit 4 Steam Generator Replacement
Lee Eung-Il
KHNP, Korea
Summary
Presentation
Dose Reduction and Management during Overhauling of Reactor Coolant Pump at CHASHMA NPP-1.
Makshoof Ahmed
MUBBASHER
Manager Health
Physics Division, C-1
Summary
Presentation
Session4
Title
Speaker
Contents
Integrated IT Radiation Management System in APR-1400
Jeong-Keun KIM
KHNP, Korea
Summary
Presentation
Development of KRMS and application of pilot project
Min Chul KIM
KHNP
Central Research Institute,
Korea
Presentation
Polaris CdZnTe Gamma-Ray Imaging Spectrometer Systems
Zhong HE
University of Michigan,
USA
Summary
Presentation
Self-disposition of styrofoam by using ISOCS (In-Situ Object Counting System)
Seul-ki KIM
KHNP, Korea
Summary
Presentation
Developments of Corrosion Resistant Fuel Cladding
James STUBBINS
University of Illinois
at Urbana-Champaign,
USA
Presentation